The geology and weather of Leander, Texas has preserved a number of amazing fossils. One of those fossil records is a set of dinosaur tracks possibly made by an acrocanthosaurus in the South Gabriel River in northern Leander.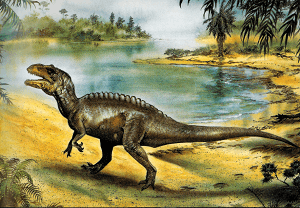 In much of Texas during the Cretaceous Period, dinosaurs walked through tidal flats and sank into the squishy mud, leaving footprints. Prehistoric ocean tides brought in clay and soft silt particles to fill the footprints. Our severe droughts in Texas baked the layer containing the tracks to become a hard limestone, the filler material eroded over time to expose molds of the dinosaur's feet.
The acrocanthosaurus looks similar to the famous tyrannosaurus rex to the average observer. It was a top predator that walked on two legs with a pair of short arms. It stood 15 feet tall and 38 feet long. According to Wikipedia, the fossils of this dinosaur are found mostly in Texas, Oklahoma, and Wyoming, but it may have ranged all over North America.
It's possible to hike down the San Gabriel to see the prints. The river bed is public property but it is not a maintained park. There are no signs or bathrooms so use caution when navigating the trails and keep an eye out for snakes and other the wildlife. Just north of where 183 and 183-A come back together, you'll find the bridge over the South San Gabriel. The tracks are found on the south side of the river, just about a half-mile downstream from the bridge. It is easier to find them when the river is dry. They are often covered with water when we get plenty of rain.