Capital Metro unveiled their long-term strategy Monday, March 26, that includes 11 high-traffic corridors for light train or rapid buses driving in separate lanes. Austin Capital Metro voted Monday to request the city of Austin for up to $15 million for an engineering and environmental study in a potential new bond election coming this fall.
Capital Metro would supply another $5 million for the studies and seek help from Travis County as well. This would set the agenda for the next decade of transportation projects in the Austin Metro area.
This "multigenerational investment"  that would cost as much as $6 billion to $8 billion and take up to 30 years to build. Capital Metro is funded by a 1% sales tax that only provides enough money to run its current bus routes and the one existing rail line from Downtown Austin to Leander. It's not clear how they would pay for the ambitious project.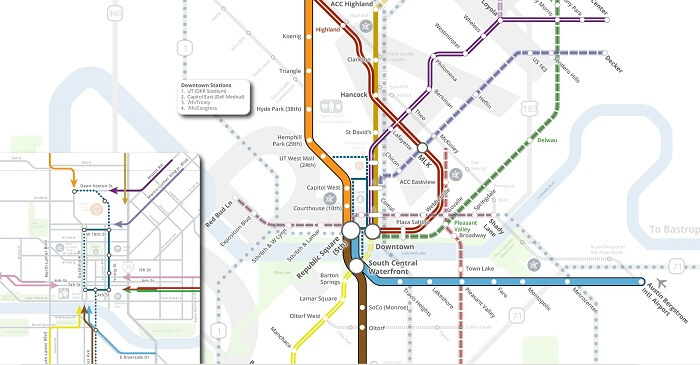 Click Here to See Detailed Map
Rail and Rapid Bus Lines
The new plan prioritizes the projects in 4 categories. The highest priority projects include a blue line from downtown Austin to Austin-Bergstrom International Airport along East Riverside Drive, a brown line on South Congress Avenue from downtown to Slaughter Lane and an orange line on Lavaca Street and Guadalupe streets going to far North Austin.
The second level of project priorities are the purple line that would follow along Manor Road to the Travis County Exposition Center and the yellow line would go from downtown Austin to Oak Hill on South Lamar Boulevard and U.S. 290. The existing red line from downtown Austin to Leander would also be expanded.
The third priority is a gold line that would go from downtown Austin to the Austin Community College Highland campus.
A fourth set of priorities includes service to Manor, an east-west line, service along South Pleasant Valley Road to the McKinney Falls area and on East Martin Luther King Jr. Boulevard from downtown Austin to Decker Lane.
The new president and CEO of Capital Metro, Randy Clarke, would not say exactly which corridors would have train or rapid bus service. The Project Connect plan began over 2 years ago. There have been two previously unsuccessful attempts to add commuter trains in Austin. It makes sense that they have laid out their larger regional transit plan to attract the most amount of voters to approve the first round of priorities, hoping that another line will eventually reach them too.