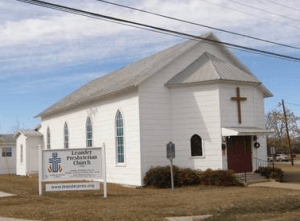 Leander Presbyterian Church celebrates its 160th year serving the Leander/Bagdad community.  Reverend Robert McElwaine is welcoming the community to share a pot-luck lunch with the church on February 12.
The church was founded by Rev. R. M. Overstreet on Valentine's Day, February 14, 1857 in Bagdad, about one mile west of modern Leander. It was the 9th church to be established in Williamson County, but one of the few remaining today. It was then called Pleasant Hill Presbyterian Church and was located in the town of Bagdad. When the new railroad bypassed Bagdad in 1882, the nearby town of Leander was founded closer to the train. The congregation voted to move their church to the new town.
Previous to 1857, Rev. R. M. Overstreet visited the community monthly to preach the Gospel. The worship took place in a nearby schoolhouse or sometimes in Liberty Hill. The church building was erected in 1884 on property belonging to church member Sarah J. Walker. She donated the land to the church trustees in 1895. Many descendants of the early members remain active in Leander Presbyterian Church.
The general public is invited to help celebrate the 160th anniversary of the Leander Presbyterian Church on Sunday, February 12, 2017. There will be a church service at 11 am and lunch to follow.